F17 Reviews
It is time to pull on your helmet, grapple with your gearstick and screech away from the lights in your best boy racer-type spin.
R
acing games seem to get pumped into the face of the buying public these days like so much exhaust emission pouring into the atmosphere. Everybody parades around thinking that another one won't hurt, when really we have almost reached complete saturation point. Let us meander down the metaphorical track of the tired Formula 1 licence for a moment. Look how many titles are currently racing for contention for the pole position of number one motor racing experience.
Vroom, F-1 Grand Prix and Super Monaco GP are just three of the relative oldies to grace the grid. Agreed they are to all intents and purposes classics, but weren't they enough to put the rival factions off?
It seems not, because just recently a pack of new titles have weaved their turbo-charged selves onto your shelves. Mr Whinging Brummy himself, Nigel Mansell, took time out from making even more loot to lend his name to a Formula 1 title. Then there is Domark's F1; this has the official backing of the F.I.A. which should give it some extra revs. With the big names and licences being banded around you would not think there would be much space on the track for another competitor.
ASTONISHMENT
So when another Formula-1 style title screeched its way into the office, it was greeted with both astonishment and a certain amount of contempt. However, when I noticed the Team 17 logo emblazoned on the bottom of the box my heart became filled with sunshine. Could the company that wowed us with the like of Project X, Superfrog, Alien Breed and most recently Body Blows do it again?
Well what with the recession and all, the company refused to buy me a sexy Marlboro racing suit, so reluctantly I stretched into my undersized Admiral tracky bottoms, slipped on my oven gloves, strapped up my colander and set out to road-test Team 17's new title. First query is why the devil is it called F17 and not F1 like the others? Well, it is apparently because FUJI and the FIA have decided to get mardy about people using words like F1 or Grand Prix. Now that we have cracked open that little piston rod, let us find out about the nuts and bolts of Challenge. Remarkably enough, 17 puts you in control of one of four racing cars over all the world's toughest circuits. The ultimate aim, like all racers, is to become world champ.
That, to all intents and purposes, is that; most racers follow the same recipe, because that is what the likes of our Damon do for a living. So there are no real surprises on that front.
However, and I am jumping the green light here a little, but things need saying now, before you condemn F17 as "just another racer". For one it is brilliant, and secondly it only costs the best part of £13! When most products float around the £25 to £40 mark, you are guaranteed a quality product for just a fraction of the cost. In terms of its features, F17 holds its own against its more costly competitors from the same stable. Choice of car, varying levels of ability from rookie through to pro and interchangeable control system are just the press of a throttle away.
CHAMPIONSHIP
Once you are out there in the cockpit there are more decisions to make. You can opt for practice laps or play arcade-style three-lap races which challenge you to finish in the top six to qualify for the next circuit. Alternatively you can take part in qualifying to determine your place on the grid in the full-blown championship.
There is also wet weather to contend with, and dmage inflicted on your car by driver error or other mean machines affects your performance.
A nice touch here is that when your little brum-brum takes dents to the paint-work you can pit in. The longer you stay in the pit, the better the repair job you get.
All these things are really nice features but above all the outstanding quality of F17 is playability. Pure, unadulterated, arcade playability. Challenge absolutely oozes out of the side of the disk drive.

The screen update is positively rapid and your car moves at a terrific rate. Everything graphical from backdrops to your car is very well drawn and animated.

When the finish line has been finally crossed, it has to be said that Team 17 have come up with a winner. Everything about this game is just brilliant – it looks good, sounds good and plays as well as any racer I have yet seen.
Do yourself a favour, buy Challenge, have hours of tyre screeching fun and save a dollop of dosh at the same time. Awesome.
SIMON CLAYS

"Gamer", Amiga Computing, Issue 66, November 1993, p.p.121-122

VISION
G G G G G G G G G *
AUDIO
G G G G G G G G * *
DIFFICULTY
G G G G G G G * * *
LASTABILITY
G G G G G G G G * *
Team 17 do it again with brilliant Formula I frolics in the fast lane. Highly playable and a must for those who enjoy spraying champagne over everybody from the winners' rostrum.
90%
Publisher:
Developer:
Disks:
Price:
HD Install:
Size:
Team 17
Holodream
2
£12.99
No
1 meg
---
Team 17 * £12.99 * Needs 1 meg * New!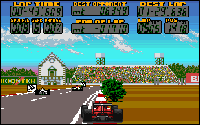 There is nothing us reviewers like more than whingeing about the price of games, so when a brand-spanking new, more than decent racing game is released for a snip at £12.99, well, it rather takes the wind out of one's sails. And that is exactly what the Wakefield-based Team 17 programmers have done by releasing F17 at a budget price in a fit of generosity not usually associated with Nortshire folk. Anyway, if it is that cheap, F17 must be crap, right? Wrong. What we have here is a perfectly reasonable game released at a perfectly reasonable price. Hurrah.

All this is most commendable, but what do you actually get for your hard-earned brass? Well, F17 is not going to win any prizes for originality, fitting as it does into the well-established tradition of racing games such as Nigel Mansell's World Championship and Lotus Turbo Challenge. But it gives you the impression of beling round various circuits at a fair old speed as you fly past (or into) 2D trackside objects. To begin at the beginning. An options screen enables you to choose between four cars each of which has different attributes. Red, for example goes like a bomb in a straight line whereas Yellow or Green might serve you better on more twisty circuits. You can then opt to have a bit of practice, take a single race or qualify for the first track of your world championship tour.
There are 16 tracks to be raced, each of which has scenery and a background which is at least appropriate for the venue if not accurate; Monaco for instance, has plenty of lamp posts and the famous tunnel section. Put your foot down, you will fall over
Playing the game comes as a rather nice surprise after a long loading time and although F17 comes on two disks there is hardly any swapping to be done. The first thing you notice about the game is an inability to see very far into the distance and, because it is hard to anticipate bends, an in-game map would have been useful. However, the car is nicely animated and in serious collisions it can swivel a smooth full circle. Maintenance at the pitlane during the game is, thankfully, no chore, you just pull in and gauge the speed of repairs. However, the pit crew does give the strange impression that they are milking the car. That Mansell: I weel keel heem
The really great thing about F17 is that it is not easy. On Rookie level – the easiest setting – it takes a great deal of practice to win points at each venue, though in time you can usually come first in each race. Even then, two other levels of difficulty, four different cars and the option to play in either normal or arcade modes give it a lasting challenge. It is fair to point out that if F17 had been released as a full-price game, it would not have been rated so highly. However at this price F17 is good gear. It takes an old concept and uses it to good effect. Let us hope it starts a trend.
Stephen Bradley

Amiga Format, Issue 52, November 1993, p.104


---
Ausgebremst?
Im Interview in der letzten Ausgabe haben es die Jungs angedroht, jetzt haben sie es wahrgemacht: Mit dieser Formel-I-Raserei startet Team 17 die großoffensive auf den Budget-Markt!
Schön und gut, nur für die erste Startreihe reicht es nicht, da stehen wie gehabt Highlights vom Schlage eines "Jaguar", "Formula 1 Grand Prix" oder "Lotus". Dabei kann F17 trotz seines Spartarifs mit erstaunlich vielen Optionen aufwarten: Man darf seinen Fahrer benennen, zwischen Automatik und manueller Schaltung wählen und sich für Stick oder Feuerknopf als Gaspedal-Ersatz entscheiden. Sodann stehen zwei Spielmodi zur Wahl, wobei man im Arcade-Modus immer drei Runden pro Rennen dreht und sich die rechnergesteuerten Boliden am Können des Spielers orientieren, was ihre fahrerischen Qualitäten betrifft. Dem gegenüber werdem im Normal-Modus Schwierigkeitsgrad und Anzahl der Runden eigenhändig bestimmt.

So aufregend das klingen mag, in der Praxis sind die Qualifikationsläufe ebenso reizlos wie Einzelrennen auf einem der 16 authentischen Kurse (Monaco, Hockenheim etc.) oder die komplette WM-Saison. Warum? Na, erstens, weil die Computergegner keine große Herausforderung darstellen – nur nach Crashs, die eine Beschädigung am Fahrzeug nach sich ziehen und einen zeitraubenden Boxenstop unumgänglich machen, kommt anläßlich der Aufholjagd so etwas wie Spannung auf. Zweitens sieht die 3D-Grafik recht langweilig aus, am Straßenrand flitzen ewig dieselben Bäume und Werbetafeln vorbei, Hügel bzw. Täler sind kaum vorhanden, und das Zoomen hat man auch schon flüssiger gesehen. Immerhin klingen Soundeffekte und Titelmusik ganz ordentlich, die Steuerung geht ebenfalls klar. Was letzten Endes nicht klargeht, ist ironischerweise der Preis: Der Klassiker "Lotus II" fährt sich schon wegen seines Splitscreens um Klassen besser und ist mittlerweile längst günstiger zu haben als die sparsamen F17-Parcours... (rl)

Amiga Joker, October 1993, p.80

F17 CHALLENGE
(TEAM 17)
3D-RASEREI
57%
"ÜBERHOLT"
GRAFIK
ANIMATION
MUSIK
SOUND-FX
HANDHABUNG
DAUERSPAß
61%
59%
68%
66%
68%
52%
VARIABEL: 3 STUFEN
PREIS
DM 39,-
SPEICHERBEDARF
DISKS/ZWEITFLOPPY
HD-INSTALLATION
SPEICHERBAR
DEUTSCH
1 MB
2/JA
NEIN
WM/RUNDENZEITEN
ANLEITUNG
---
TEAM 17 OUT NOW £12.99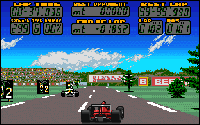 There are few decent racing games available on the Amiga. The difficulty most programmers face is finding a fine balance between realism and playability. Either you get a game bristling with detail which runs very slow or a super fast scroller almost devoid of any recognisable features. Against this difficult background Team 17 decided to release F17 Challenge, their second made-for-budget product.
The game centres around the F17 World Championship and is set over 16 circuits. You are up against 21 computer-controlled drivers, all eager for a slice of glory. Once you have chosen one of four cars available – each with their own unique characteristics – you can then opt to practice on some fictitious circuit to hone your driving skills or race on an actual track to get the hang on the bends. Of course, if your name is Nigel Mansell, you could simply choose to plunge wheels first into the excitement of the World Championship itself. The car choice may not seem too important at first but once you've chosen a car you're stuck with it for the duration. This can cause problems when the weather changes. In actual Grand Prix racing when it takes a turn for the worse the mechanics simply whack on a set of slick tyres designed for driving in the rain. Here, you're stuck with whatever the car has already. So, if you end up competing in the rain, you may wish you'd chosen the one with better handling rather than the speed demon model. The graphics, though fairly basic, have the usual polish that we've come to expect from Team 17. There are some nice touches like the sparks that fly out from under the car as it bottoms out at the base of a dip. The animated mechanics in the pits are good as well. The in-game soundtrack is racy and adds a bit of pace to the visuals. The whole thing zooms along at a cracking pace and, despite the lack of great detail, you'll soon find yourself gripped by the action. If you remember that F17 was designed specifically as a budget game, there's little to fault it. In fact, I'd say that it's the best budget title I've seen in some time. However, compared to other racing sims now available on budget, it does seem a trifle shallow. It's initially addictive but it lacks any real long term appeal.
Jon Sloan
CU Amiga, October 1993, p.87